TRACKS AROUND TEXAS
DFW - MOTORSPORTRANCH - http://www.motorsportranch.com/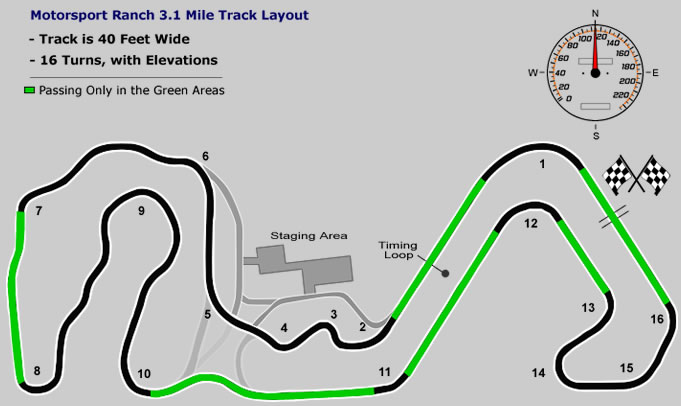 DFW - RACER'S RANCH- http://www.racersranch.com/



DFW - EAGLE's CANYON- http://www.eaglescanyon.com/



OKLAHOMA - HALLET MOTOR RACING CIRCUIT - http://www.hallettracing.net/



HOU - MOTORSPORTRANCH - http://www.msrhouston.com/



AUS - TEXAS WORLD SPEEDWAY - http://texasworldspeedway.com/



SAN - HARRIS HILL ROAD - http://www.harrishillroad.com




TRACK DAYS PROVIDERS
APEX DRIVING SCHOOL


http://www.apexdrivingacademy.com/

The Subaru gangs know John Holmes (Pantera) very close. Even he has his own STi and Forester XT.
I like Apex School better than others cause it's held in 1 day in Saturday.
NO JOKE! 8 Sessions in A DAY! Yes you'll get exhausted! but let's do it once do it all in one day then sleep on Sunday and work on Monday.
And John is the coolest DE organizer I've known.


PORSCHE CLUB


http://mav.pca.org/index.asp

BMWCCA LONE STAR CHAPTER


http://www.lscbmwcca.org/motorsports.html

NASA TEXAS


www.nasatx.com
http://www.nasatx.com/Registration.asp
https://www.nasaproracing.com/nasa_even … ent_id=341 - Online Registration

THE DRIVERS EDGE


http://www.thedriversedge.net/

AUTOCROSS / AUTO X

SCCA - Texas Region
http://autocross.com/tr/2005calendar.shtml

S2000/BMW AutoCross Events

BMWCCA - Lone Star Region
http://www.lscbmwcca.org/autocross-schedule.html

Equipe Rapide
http://autocross.com/er/calendar.htm

PCA - Maverick Region
http://mav.pca.org/mav/Events/Autocross … hedule.asp

S2K Club
http://www.s2ki.com/forums/index.php?showtopic=258913

East Texas Police Academy Training.


http://kcfac.kilgore.cc.tx.us/etpa/pdi.htm

Texas A&M Sports Car Club
http://www.tamscc.org/forum/index.php

Texas Spokes Sports Car Club
www.Spokes.org

Houston Region SCCA
www.Houscca.com

Houston Region BMW CCA
www.houston-bmwcca.com/

Lone Star Region Porsche Club
www.lsrpca.com/

DBL Racing Calendar of Motorsport Events
www.DLBracing.com

Texas Racing Scene - Austin/San Antonio area
http://www.texasracingscene.com/